Egg biryani recipe
Ingredients
6 eggs
1/4 kg basmati (fragrant) rice
4 onions
4 tbsp.oil
1 tsp jeera /cumin
1 bay leaf
1 stick dalchini / cinnamon
4 cloves
4 peppercorns
1/2 cup fresh grated coconut
1/2 inch ginger
4 pods garlic
2 green chillies
1 tbsp fresh coriander leaves
2 tomatoes
2 tsp red chilli powder
1/2 tsp. turmeric powder
1/4 tsp hing / asafoetida
1/2 tsp kashmiri garam masala
2 tsp coriander-cumin powder
1 tbsp thick curd
2 potatoes
Water
salt
oil
Instructions
Boil the eggs, peel, cut them into halves and keep aside.
Soak the rice for 1/2 hour. Cook in microwave with double the quantity of water for 16 minutes. Keep aside.
In a deep, frying pan, heat oil and fry 3 vertically cut onions till brown. Keep them aside.
Saute in a little oil, the remaining onion cut finely, along with the coconut, ginger, garlic, green chillies and coriander. Wet grind with a little water into a paste.
In the same frying pan, heat 2 tbsp of oil, add the jeera, bayleaf, cinnamon, cloves, peppercorns and saute. Add half of the fried onions, 1 tbsp of the wet ground paste, finely cut tomatoes, red chilli powder, turmeric powder, hing/ asafoetida, kashmiri garam masala, coriander-cumin powder, curd, the peeled and cut potatoes, along with 1 cup of water.
Cover and cook till the oil separates and the potatoes are done.
Add the rice, salt to taste and the egg halves.
Mix well and garnish with the fried onions.
Note :Serve with a quarter of a lemon and any salad of your choice... like cut cucumbers, onions, tomatoes or carrots in beaten curd.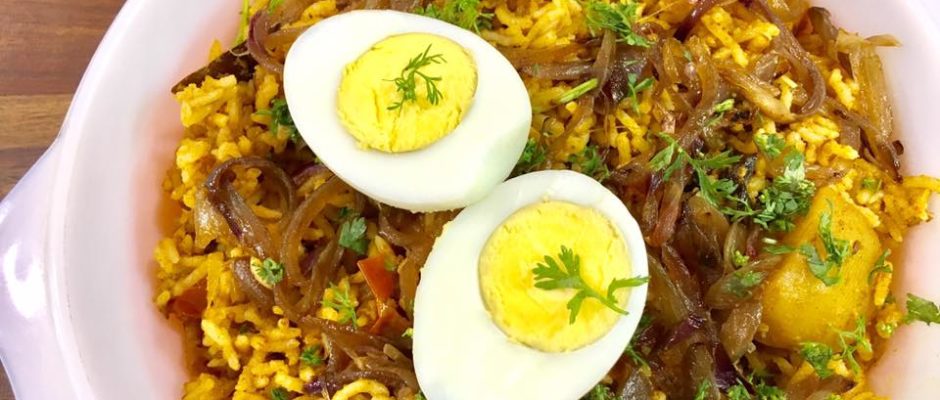 About Chef
Author
I believe that food should look as good as it tastes, and vice-versa. Maybe this is because I am an artist and an advertising professional too! But my first brush ...
Read more about this chef..
Related Recipes
Recipe Types
Recent Recipes
Popular Recipes